My current tableware collection consists of:
7 ikea plates.
6 vintage mid-century plates.
Random white bowls, origin unknown.
Mason jars for glasses ( hubs has a  jar obsession)
Some vintage diner mugs with different colors inside(my most favorite items)
Various other cups & mugs with cheesy logo's.
When the weather turns to fall, I get this desire to work on this insane assortment of tableware.   I have an elaborate replacement plan in mind and it's been in my head for years.  I will lay it out for you:
Keep the vintage diner mugs, get more on ebay.
Find some modern black matte finish flatware.
Find the perfect french block print linen tablecloth and napkins in France
Go to France.
Balanced it all out with some fun colored plates and earthy ceramic serving bowls
As you can tell, there are a few reasons this Spruce Up never happens! International travel is involved and also it's never one of those  'emergencies' that  goes to the top of our household to-do list.
You know the list I speak of, right?  It includes, fixing the dryer, cleaning the gutters, make dinner, do the laundry (again), chase out the dust bunnies in the corner, excavate the strange items in the fridge, go to a thousand school events,  etc. repeat.
As my children get older and my time is more my own ( read: my teenagers don't want to hang with me, a strange kind of freedom I actually don't mind, ha!)  I have noticed that I have been ignoring little design details at home.  I realized that something as simple as  gathering a new tabletop collection would bring me joy every single day, especially since we love to have our friends and family over for meals. It is definitely a form of self-care.
What areas are you ignoring in your home right now because life is too busy? Have your bath towels turned a strange color? Is the art on your walls offering some inspiration as you walk by it or is it just taking up space?
Sometimes upgrading these little things make big upgrades to your happiness.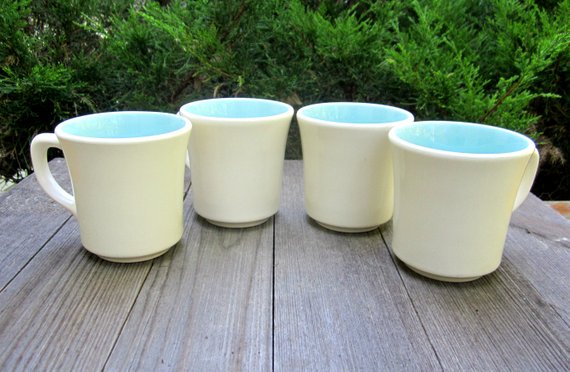 Ps. These are the vintage diner mugs I have from ebay. There are ones with blue, yellow and pink inside! These bring me joy every morning.
lead interior designer @ Spruce Up